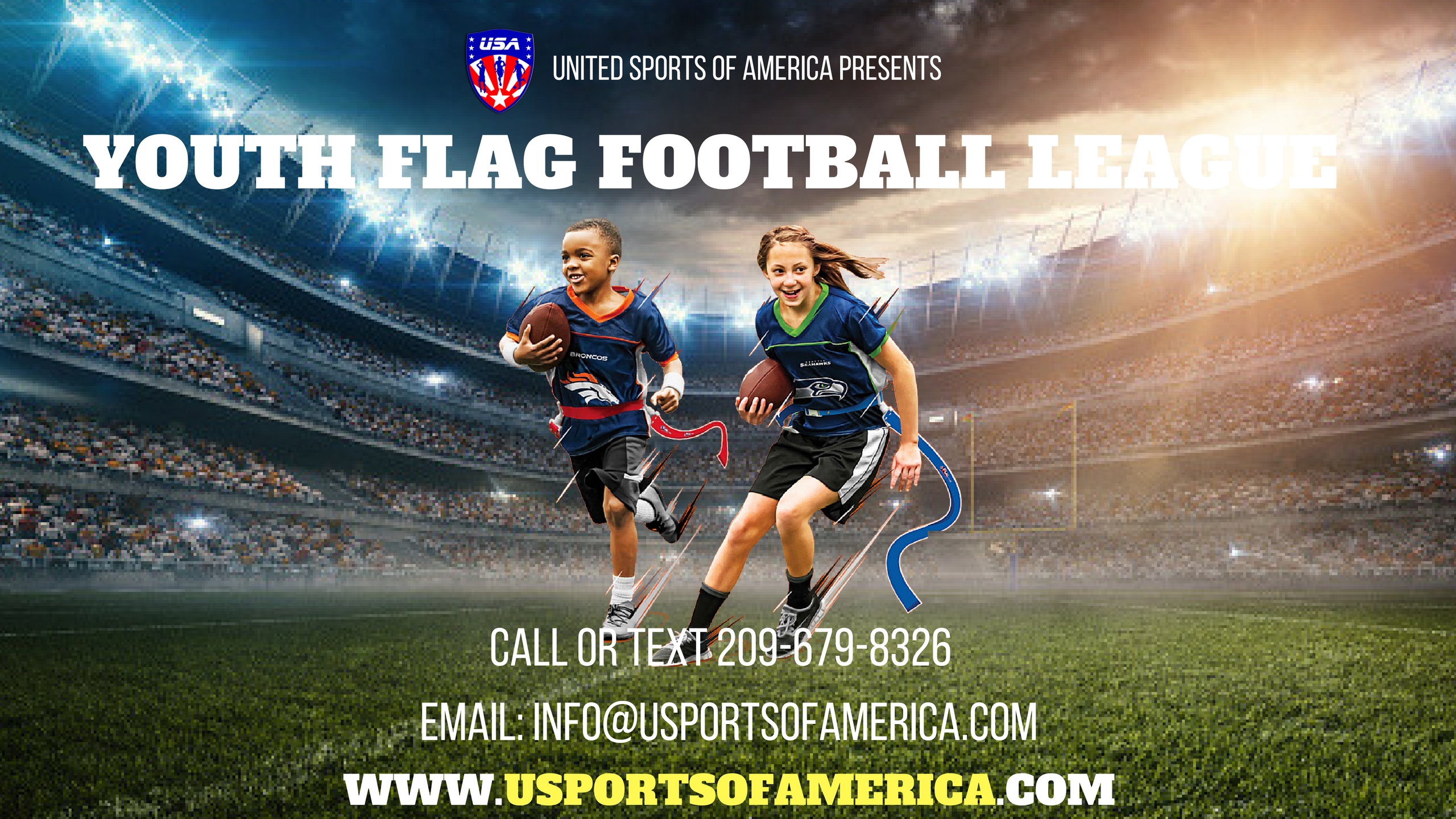 Our League
United Sports of America offers co-ed non-contact flag football for youth grade levels Pre-K - 8th grade. Teams meet and practice before their scheduled game times. Games last 40 minutes. The typical team size is 8 to 10 children. 
Registration is now available for our Fall leagues. The cost varies by location. Each player receives a team jersey and flags.
LOCATIONS and times
Location Area: Dublin / Pleasanton / San Ramon / Livermore  
Dates: Friday Nights 9/14/18 - 11/9/18

Time: 6:30pm - 9:30pm

Field Location: Fallon Sports Park - 4605 Lockhart St, Dublin, CA 94568 (Lower Turf Fields 3 & 4)
September 14th: League Practice/combine
September 21st: League Practice

September 28th: First League Games
November 9th: Championships
Location Area: Fremont / Union City / Hayward 

Dates:  Sundays 9/16/2018 - 11/11/2018 
Time: 4pm - 7pm
Field Location: Shorty Garcia Park 33940 7th St, Union City, CA 94587

September 16th: League Practice/combine
September 23rd: League Practice
September 30th: First League Games
November 11th: Championships
Times may vary depending on game times. Times are subject to change. 
There are no formal mid-week practices, this is a family schedule friendly program.
DIVISIONS

Divisions are based on grade level from Pre K - 8TH Grade. 


We have different age divisions. Players may enter individually or as entire teams.  We encourage kids who want to play together and learn the basic fundamentals of the sport.


REGISTERation instructions
Select the "Register" button for the location you want to register for. If you have a team or friends you'd like to play, please have them register individually and email us your team preference at info@usportsofamerica.com
INTERESTED IN COACHING?
Interested in a fun and rewarding experience as a coach? The commitment is limited to a few hours on Sundays. We provide training and all of the equipment you'll need to have a great season.
To sign up as a coach:
1. Click the 'Register' Button
2. Select either if you are registering as 'myself' or as 'Member of a family account' (select Member of a family account if you are registering your child or team)
3. Select your role as 'Myself as a Staff Member (i.e. Coach, Referee, Volunteer)'
4. Create your account
5. Select 'Register' for the program you're interested in coaching
6. Select you are registering as a 'Coach'
7. Input your desired team name
8. Enter how many kids you're registering
9. Read and agree to the waiver requirements
10. Proceed with the payment details
If you have any questions, please contact 209-679-8326 or email us info@usportsofamerica.com
REGISTER FOR YOUR AREA BELOW